Melinda M. Adams
---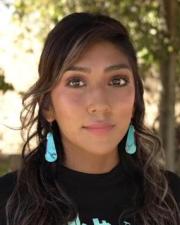 Langston Hughes Assistant Professor in Indigenous Studies and Geography & Atmospheric Science
San Carlos Apache
Contact Info
Snow Hall, Room 318
Lawrence
1460 Jayhawk Blvd.
Lawrence, KS 66045
---
Biography
—
Melinda holds her B.S. in environmental science from Haskell Indian Nations University, her M.S. in ecology and environmental science from Purdue University, and M.A. and Ph.D in Native American studies from the University of California, Davis.
Research
—
Melinda's current research focuses on the revitalization of cultural burns (small area prescribed fires conducted using Traditional Ecological Knowledge), in collaboration with Tribal Nations in Northern California. She examines plant and soil physical-chemical responses to cultural fire, including culturally significant plant yield, soil carbon storage, nutrient cycling and water holding capacity. This work is rooted in the place-specific, land stewardship lessons of Indigenous cultural fire practitioner-partners.  
Broader implications of this research include deploying cultural fire as a climate adaptation strategy, while mitigating the frequency and intensity of catastrophic wildfire in the West.  
Her overall research areas of interest incudes pyrogeography, biogeography and Indigenous environmental science, mixed with Native American and Indigenous studies pedagogy and methodology.  
Melinda is a former Tribal college professor at Haskell Indian Nations University, having developed research and curriculum intergrating Indigenous Knowledge with Western science while mentoring/ instructing Native students representing over 130 different Tribal Nations from across the country.